Meet Andrew Vogt, Freelance Jazz Musician and Local Band Teacher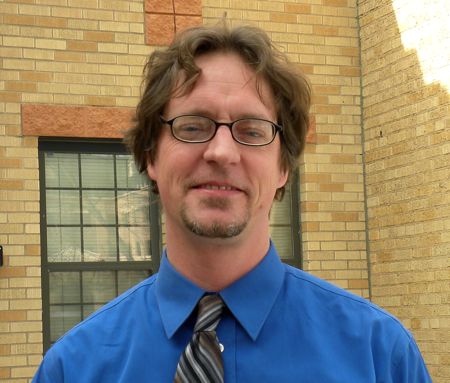 by Kara Thompson
When he was a kindergartener, one of his favorite albums to select for family dinner music was the Breakfast at Tiffany's soundtrack, featuring music and composition by Henry Mancini. This music, particularly the saxophone parts, inspired him to want to make music a predominant part of his life. Now, Andrew Vogt is a professional freelance saxophonist performing gigs in Fort Collins every week as well as band director at three local schools.
"I always loved music, since I was a little kid. My dad had a good record collection, which I still dig into. My two brothers and I took turns picking dinner music. One album Dad had was Henry Mancini's Breakfast at Tiffany's. It was my favorite. It had great saxophone, and I was hooked when I heard that," he said. "They played jazz and took us to opera. We were exposed to good music early on."
Vogt splits his time during the day as band director at Saint Joseph Catholic School in Fort Collins, Saint John the Evangelist Catholic School in Loveland, and Immanuel Lutheran School in Loveland. He appreciates the the opportunity to be involved in music education and introducing children to instruments.
"I thought about being a college professor…for about 15 minutes. I quickly got over that. I like working with kids. They have a lot of enthusiasm and fun. I like to try to get them excited about music. They are open to putting themselves out there and trying new things," he said.
His teaching schedule, which is typically Monday through Thursday during the day, allows him to have time to perform and compose. As a freelance jazz saxophonist and clarinetist, he plays with a variety of bands several nights a week in Fort Collins, along the Front Range, and in resort towns. On occasion, he travels out of state to play with certain bands, and he's had recent gigs in San Francisco, Las Vegas, and Michigan. Though jazz is his primary musical genre, he also plays funk, rhythm and blues, dixieland, polka-jazz, and blues.
Vogt leads several bands — the funk jazz band ZARO, in which he plays saxophone; and the polka jazz trio, The Twirling Zucchini Trio, in which he plays clarinet. Another group, The Andrew Vogt Gypsy Street Trio, will be a part of the Beet Street program Streetmosphere this summer in Old Town; this program offers free, outdoor performances of all types throughout the summer. He also plays regularly with the Subterranean Jazz Quartet, which performs Thursdays at Ace Gillett's in Fort Collins. Other bands that he plays with on a regular basis include Drew and Julie's Martini Lounge, The Grippe, The Poudre Irregulars, Swing Essence, and The Jonny Mogambo Band.
I've been described by some other musicians as being a chameleon. I play a lot of different styles. – Andrew Vogt
Vogt credits his ability to work with others as an essential part of being a successful freelance musician. He learned this lesson early, when in his first year of college at the University of Kansas, a professor gave him advice that he's always remembered.
"My sax professor told me that being a musician involves more than playing. You have to get along with people. That stuck with me. If you're not easy to work with, approachable and pleasant, it's going to get in the way," he said.
This is a lesson that he carries into the classroom and tries to teach his own students.
"I try to instill with my band students that we are in this together. For something to work, we have to get along and support each other. How well we play is only a part of it," he said.
In addition, Vogt has produced and composed two solo albums,  Action Plan  (2006) and  Cats Afoot  (2010), under his record company,  Drew's Blues Records . He has also played on albums for several other groups and musicians and has a new CD coming out later this year with The Twirling Zucchini Trio.
Doing compositions and arrangements is part of being a musician for me. It's natural for a jazz musician to compose because we're already inclined to improvise. It's in the blood of that kind of creative musician. – Andrew Vogt
Vogt, born in Michigan, considers Lincoln, Neb., as his hometown because he spent most of his childhood there. After attending the University of Kansas for one year, he transferred to the University of Nebraska, where he earned his Music Education degree with an emphasis in performance. After college, he played saxophone with various bands on Carnival Cruise Lines. After his travels to various exotic locations, he developed a mysterious illness and had to leave his job with Carnival. Because of this, he moved to Fort Collins in 2000 to be nearer to his parents so that he could recover.
Shortly thereafter, he began sitting in with a band at the Crown Pub and started making connections throughout the Fort Collins musician community. He also taught private music lessons, and he then was the substitute band director at Saint Joseph's for a year before being hired permanently.
Though unforeseen circumstances brought him to Fort Collins, Vogt soon discovered that he loved the town and the mountains.
"After I recovered, I realized I really liked Colorado. I discovered skiing and I love the mountains," he said.
Among his favorite free-time activities are spending time with his wife and cats, hiking, skiing, biking, drawing and sampling the local micro-brews.
The passion of Fort Collins residents for music is another part of the community that Vogt appreciates, particularly because it allows his to be a successful freelance musician.
"On certain nights of the week, you could have five venues with live jazz. From May to September here in Colorado, it's a good time to be an active freelance musician," he said. "I'm thankful to be able to be involved in music professionally. It's a blessing. There are so many wonderful musicians in Colorado; it's an inspiring place to be."